Gimme the Money: Knowing When to Write a Business Plan
Posted by
Jessica Oman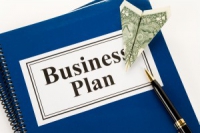 You're a motivated entrepreneur with a myriad of ideas swimming around in your head. The product or service you want to offer has a perfect niche market, and you've figured out a way to be distinct from your competitors.
But is it time to write a business plan? Are you ready to go and ask for funding?
As we've all seen on Dragon's Den and Shark Tank, investors turn away many entrepreneurs with fantastic business ideas, because they are simply there too early. It's not time to ask for money yet. The product hasn't been tested, or there are no orders, or the prototype still needs work. Yes, sometimes businesses do get funded well before they have any sales, but this early stage financing isn't a fit for every business.
Chances are, if it's not time to ask for the money yet, it's not time to write your business plan yet.
However, it's not always easy to know if it's the right time to write a plan.
Here is a litmus test you can use to assess whether it's time to sit down and write that plan:
1. Can you quantify how many customers there might be for your product or service?
Do product testing. Conduct surveys. Compile and analyze statistical research on your target customer. You need to know how big the market is before you develop an entire business for a group of nonexistent customers.
2. Is your business stagnant because you're out of money – or because you're not taking action?
Sit back and consider whether it really is the money that's holding you back, or if you're holding yourself back. It costs nothing to make a sales call, to write blogs and articles, to attend networking events. If you've exhausted all your free resources and only money will move you forward, it's time to write a plan and go for funding.
3. Do you have enough orders to stage the next level of growth?
Your product works, your test market loves it and you're selling already. If you're not profiting because your scale is too small, maybe it's time to get some capital and expand. If you can't keep product on your shelves any more because there's so much demand for it, then ask your buyers how much they want, get letters of intent, and decide how and when to scale up.
These are just a few tests you can do to determine whether it's time to write a business plan or not. Ask a mentor or colleague for advice, too. And if it's time, then get out there and write that plan!