How to Build Your List with Great Content, Part Two
Posted by
Nicole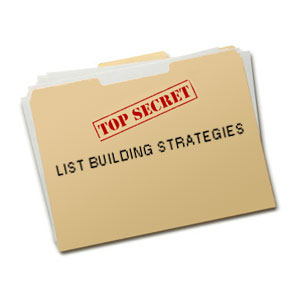 In my previous post about How to Build Your List with Great Content, I wrote about how regularly providing interesting, informative, and useful content is the best way to build your email list.  Why do you want a big list, again? Because a targeted audience that already knows, likes, and trusts you is a fantastic asset when marketing your products and services.
What Constitutes Great Content?
The content you provide to your readers freely via your blog, your newsletter, or an information product will differ from the copy on your website. While copy is meant to lead the reader directly to a sale, the goal of providing content to your readers is less direct. Your aim is to give visitors to your site something they can take away that:
a) gives them the sense that you understand their pain
b) shows you have the expertise to help solve their problem and
c) makes them realize they want to work with you/buy from you because you're awesome.
Great content offers useful information on a topic of concern to your ideal client that showcases how you meet a) and b). It can take the form of a free article (or series of articles), a report, a case study, a blog post, or ebook.
Give Them Something Free, But Ask Them to Subscribe
On your website you've shown the people that you have something valuable to offer them to make their lives better. Now it's time to ask for something of them – permission to contact them in future with special offers, new products and services, or just to say hi. Don't just ask for their personal information; give them something free for the privilege. Offer a goodie they can't resist – an e-book, a report, a free consultation, a coupon code – on the condition that they can have the goodie if they opt-in to your list.
The key to remember is that your target audience may think you are great by the time they see your opt in box, but they are busy people with short attention spans. Make it as easy as possible for your readers to sign up. Offer the opportunity to subscribe in different ways so you don't lose the person who hates filling out internet forms, or her cousin who hates email.
It goes without saying that if someone is trusting you with their personal information, you need to make it just as easy to unsubscribe. And of course, always use a double opt-in method to ensure that people who are signing up really want to do so. This is also the time to let people know about your privacy policy. Never ever make anyone regret they've joined your list!
Promote Your Email List Wherever You Can
Here are a few ideas for getting the word out about your subscriber list.
1. Include a link to your opt-in page in your
blog posts
newsletter
press releases
social media
contests (announce the winner in your free newsletter for subscribers)
2. Offer a bonus to customers who refer a friend (and of course you'll reward both parties with a special offer or goodie as a thank you).
3. Try forward-to-a-friend or refer-a-friend tool (Blue Hornet Email Marketing offers one). Again, only use a refer-a-friend tool with a double opt-in for new subscribers, be clear about your privacy policy, and make it easy to unsubscribe).
For more tips on how to grow your list, check out this great blog post by Kelton Reid of Copyblogger on How to Build Your Email Marketing List with a WordPress Site.
Do you have any tips you'd like to share on list-building? We'd love to read your comments if you'd like to share! And if you'd like to join our list, we'd love to have you!